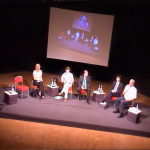 Anlass: Bundestagsabgeordnete aus Baden-Württemberg erläutern ihren Standpunkt (und ihrer Partei) zu verschiedenen Themen (Stand Juli 2009), unter anderem: Umwelt, Bildung, Ausbildung, Finanzen, Sicherheitspolitik und Zensur bei von der SMV organisierten Politiktage der Freien Waldorfschule Vaihingen/Enz. Zudem stellen sie sich Fragen verschiedener Schüler, die bei dieser öffentlichen Veranstaltung auch aus anderen Schulen der Region mit eingeladen wurden.
Teilnehmer (aus Bundesland BW):
Credits:
Video-Informatioen: Noch nicht verfügbar.
Download:Politiktag.ogg (ca. 800mb)
Transkript: Noch nicht verfügbar.
Spenden:https://flattr.com/donation/give/to/fwsv-beleuchtung
Lizenz:
"Politiker im Kreuzverhör" by Alex Bloss, benibr, Jonas Heinrich, Freie Waldorfschule Vaihingen/Enz, Bigwood.de, Project-Insanity.org is licensed under a Creative Commons Attribution 3.0 Germany License. Based on a work at www.project-insanity.org. Permissions beyond the scope of this license may be available at https://www.project-insanity.org
💬 Are you interested in our work or have some questions? Join us in our public Signal chat pi crew 👋
🪙 If you like our work or want to supprot us, you can donate MobileCoins to our address.