Nach dem Update der Software von 1.0 auf 1.4 blinkt im Display "AIRF".
AIRF = AIR FILTER
Eigentlich ist es kein Error, sondern eine Meldung, welche uns die Mitteilung gibt, dass das Gerät XXXX Betriebsstunden hat, und der besagte AIR FILTER oder Luftfilter, der Sich hier befindet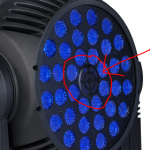 gereinigt werden soll. Mit einem kleinen Schlitzschraubenzieher "hebelt" man behutsam die Plastikabdeckung herunter.
Nun kann man den Lüfter ausblasen und den Schaumstoff wechseln.
Im Menü -> Info -> AIRF haben wir die Möglichkeit den zahlenwert zwischen 0-9999h frei zu wählen.
Im selben Menüpunkt reseten wir auch den Zähler, der dann wieder bei Null startet und die Warnung bei gewünschtem zahlenwert wiederholt.
💬 Are you interested in our work or have some questions? Join us in our public Signal chat pi crew 👋
🪙 If you like our work or want to supprot us, you can donate MobileCoins to our address.