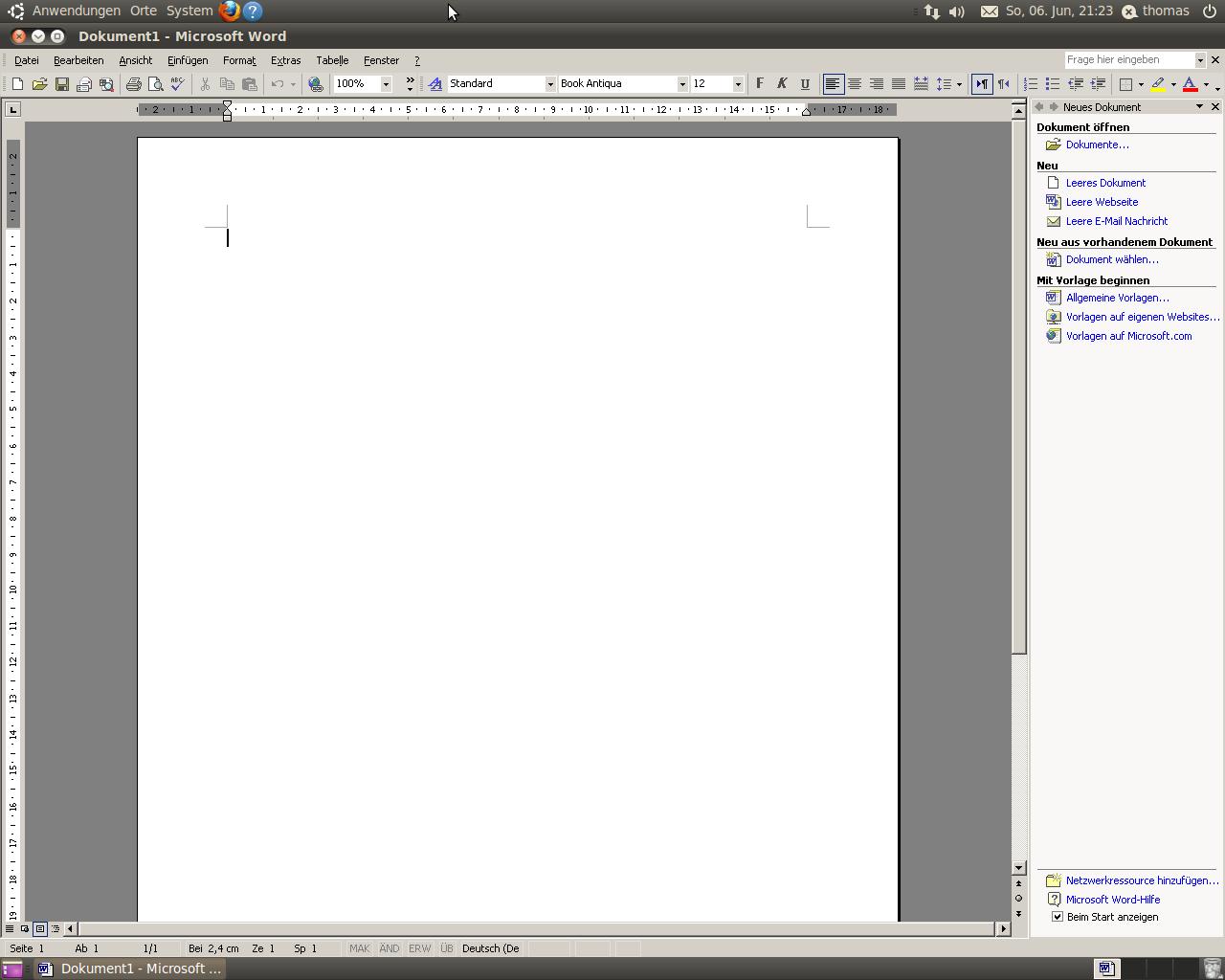 Microsoft Office XP ist schon etwas älter, wird aber auf langsameren PCs noch immer gerne verwendet. Leider läuft die Installation unter Ubuntu mit Wine nicht so reibungslos, wie man es sich wünscht – zumindest hat es mit Version 1.2rc2 nicht funktioniert. Besonders der Bug #5163 erschwert die ganze Prozedur …
Zum Glück finden sich dort Patches, mit deren Hilfe man Office XP reibungslos installieren kann. Dazu muss man den Sourcecode von Wine herunterladen, die Version patchen und dann neu kompilieren:
sudo add-apt-repository ppa:ubuntu-wine/ppa
sudo apt-get update
sudo apt-get build-dep wine1.2
sudo apt-get install fakeroot
sudo apt-get source wine1.2
cd wine1.2-1.2~rc2/
wget http://bugs.winehq.org/attachment.cgi?id=11836 -O office1.patch
wget http://bugs.winehq.org/attachment.cgi?id=14308 -O office2.patch
patch -p1 < office1.patch
patch -p1 < office2.patch
sudo dpkg-buildpackage -rfakeroot -uc -b
sudo aptitude remove wine1.2
sudo dpkg -i ../wine1.2_1.2~rc2-0ubuntu-lucidppa1_i386.deb
Je nach Wine-Version können die Verzeichnisse und Versionsnummern sich ändern. Es lohnt sich natürlich davor einen Blick in die Wine AppDB zu werfen, um sicherzustellen, dass das Problem in einer neueren Version vielleicht nicht schon behoben ist!
💬 Are you interested in our work or have some questions? Join us in our public Signal chat pi crew 👋
🪙 If you like our work or want to supprot us, you can donate MobileCoins to our address.