Die Pi-Crew war vergangenes Wochenende in Karlsruhe auf der GPN10. st und Robert haben hier sowohl in den Lightning Talks als auch in einem eingeschobenen Vortrag am Sonntag Vormittag die CNC vorgestellt, an der während des ganzen Wochenendes viel Interesse bestand.
Der tux war dieses Jahr leider nicht anwesend, was den Spass allerdings kaum minderte, da die GPN sich von letztem Mal was Atmosphäre und Hackingmöglichkeiten betrifft, wieder gesteigert hat.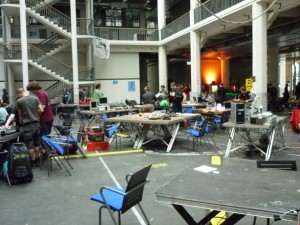 @all: Bis nächstes Jahr in der HfG!
💬 Are you interested in our work or have some questions? Join us in our public Signal chat pi crew 👋
🪙 If you like our work or want to supprot us, you can donate MobileCoins to our address.